Here is a sneak at the wedding still to be posted. These images are from their First Look, which I LOVE when my couples do this!! Not all of them do, but I think that more and more are starting to do it this way and that old tradition is slowly slipping away. Or am I just hoping??!
I have heard that the only reason couples did not see each other before the ceremony was because back in the days of pre arranged marriages, they did not want the groom to have a chance to call it off before he saw who was selected for him!! I don't think we have prearranged marriages anymore, so that is not a worry any more.
Here are some reasons again, why I love to have my couples see each other beforehand:
No, it is not like they are running around chatting, seeing each other while doing hair/makeup or whatever. It is a very special, SET UP time, when both are ready! We will bring the groom to a pre-determined spot, could be the ceremony location, so you can still have the "walking down the aisle" experience, or any spot at the venue.
Here she chose to have him at the bottom of the stairs:
So their he awaits, anxiously to see her,
He then turned around and Ta-Da there is his beautiful bride for the first time on their wedding day coming down the stairs!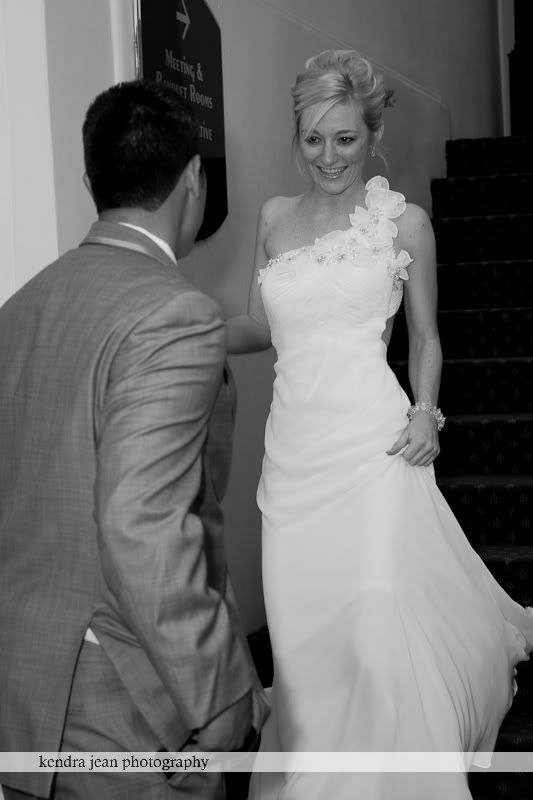 So much emotion during this short private time with me on the sidelines and just the two of them! You would not be able to do this during the ceremony. Sharing a few minutes without any guests, not worrying about tripping as you walk nervously down the aisle, or smiling just right for the camera, trying not to cry too much, etc. And I will tell you, from the amount of times I have had couples seeing each other before hand, there is still PLENTY of emotions from both the couple and the guests as the bride walks down the aisle! Some couples feel that if they see each other before, they will be missing out on something, but my couples have said, that they still feel that great emotion, because it is still her walking up to become his wife!

After they have seen each other, it is a huge stress relief and they can relax and share time together as we wander around the grounds capturing images of just the two of them before the bridal party joins in.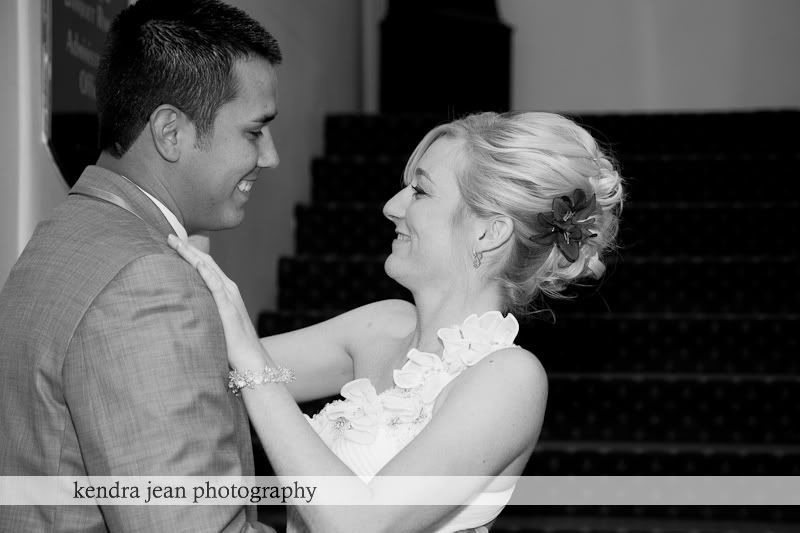 So happy!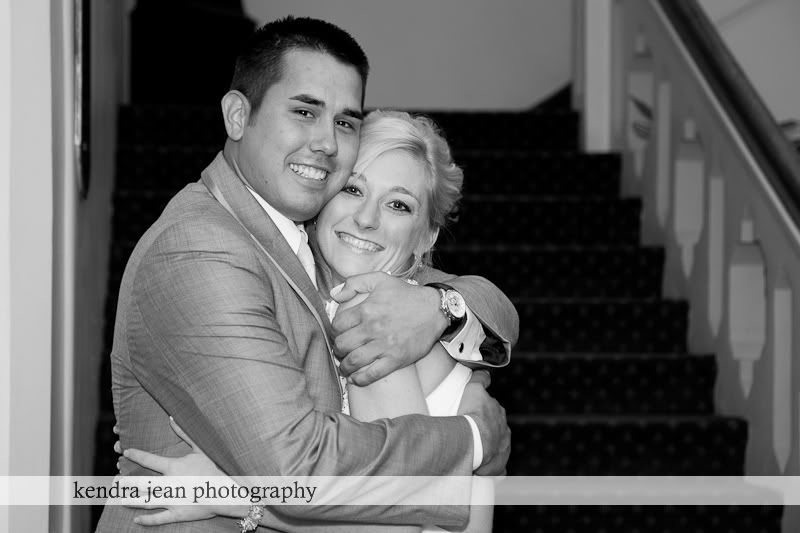 Sharing gifts…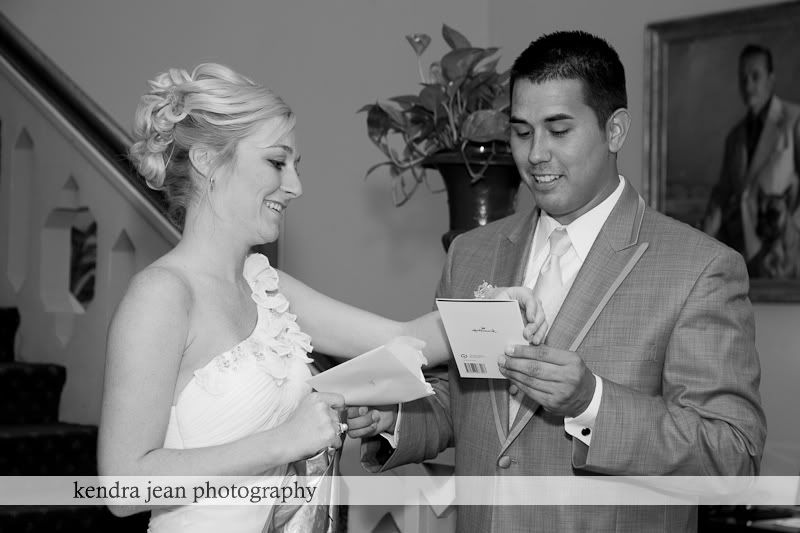 When my couples see each other, we are able to have plenty of time to wander around with them and the bridal party, while the sun is still shining, no guests around to be rushing off with bridesmaids, or groomsmen getting antsy to get to the cocktail hour etc. We can get all of those done, go through the ceremony and after take a short time to do the family photos and if the Couple wants, a few of them at sunset!
Then the Couple AND the wedding party AND the Family are ready to go mingle with guests, visit and catch up with out of towners, share in the cocktail hour! So much more relaxing than rushing through a couple hours of photos in maybe, if we get lucky 45 minutes between the end of ceremony and the grand entrance! And that is if the ceremony actually starts on time and ends on time
But, if you still do not want to see each other beforehand, then I like to suggest that you set your ceremony with enough time BEFORE sunset, that we can still shoot all of the formals with some sunlight!
Often times,brides think that there are certain rules to weddings like cannot see groom before ceremony, you must throw a garter, you must do a cake cutting, no one can see the couple until the grand entrance etc. But I think the only rule should be is that you plan your wedding how YOU want it to be, not anyone else and be happy!
You guys let me know, did you see each other before hand? or if you are a bride planning, have you thought about seeing each other beforehand? Would love to hear!

I hope all of you have a lovely Easter Weekend!